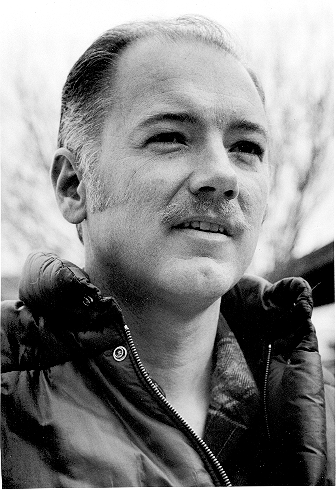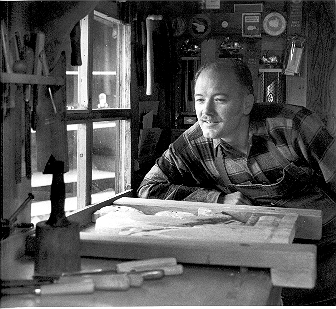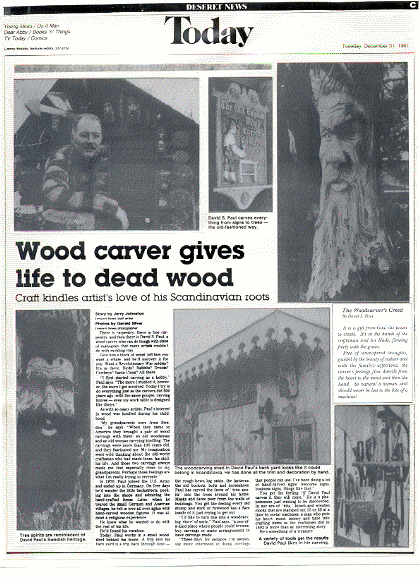 My name is David S. Paul and I'm a wood carver trained in 1971-72 over in Bavarian Alps, Augsburgh and Garmisch, Germany in old style of wood carving with hand tools. I carve The traditional German 6' to 14' tall tree spirits , Green Man / faces male and female into both live and dead trees and structural posts and beams in buildings. I also build tiny gnome villiages on or into your tree stumps. Also I carve vine work and floral carvings in hand rails and posts, heavy timber signs and many other types of fine wood carvings. I also reproduce facia trim boards from old houses and cottages from England and Germany and Scandinavia. A few years ago I carved two large tree spirits in the front posts of the grass roofed stone shop at Solitude ski resort in Salt Lake City if you would ever want to take a look. If you would be interested in having any giant wood carvings done in the old German style in any of the structural members in your lodges or in the trees I would be glad to talk to you. I have a web site for you to get a better idea of some of my style of wood carving for you to look at.
I do travel to your destination site upon request. If your interested for you or your customers.
Deseret News Article December 31, 1991
There is carpentry, there is fine carpentry, and then there is David S Paul, a wood carver who can do things with slabs of mahogany that many artists couldn't do with molding clay.
Give him a block of wood, tell him you want a whale, and he'll uncover it for you. Want a Revolutionary War soldier? It's in there. Birds? Rabbits? Druids? Cowboys? Santa Claus? All there.
"I first started carving as a hobby," Paul says. "The more I studied it, however, the more I got involved. Today I try to do everything just as the carvers did 500 years ago, with the same gouges, carving knives - even my work table is designed like theirs."
As with so many artists, Paul's interest in wood was kindled during his childhood.
"My grandparents were from Sweden," he says. When they came to America they brought a pair of wood carvings with them: an old woodsman and an old woman carrying kindling. The carvings were more than 100 years old, and they fascinated me. My imagination went wild thinking about the old-world craftsman who had made them his skill, his life. And those two carvings always made me feel especially close to my grandparents. Perhaps those feelings are what I'm really trying to recreate."
In 1970, Paul joined the U.S. Army and ended up in Germany. On free days he'd wander the little back streets, peeking into the shops and admiring the hand-crafted items. Later, when he toured the small German and Austrian villages, he fell in love all over again with hand-carved wooden figures. It was almost a religious experience.
He knew what he wanted to do with the rest of his life.
He'd found his vocation.
Today, Paul works in a small woodshed behind his home. A trip into his back yard is a trip back through time. The rough hewn log cabin, the lanterns, the old buckets, bolts and horseshoes. Paul has carved the faces of "tree spirits" into the trees around his home. Masks and faces peer from the walls of buildings. You get the feeling every old stump and stick of firewood has a face inside of it just crying to get out.
"I'd like to turn this into a woodcarving store of sorts" Paul says. A one-of-a-kind place where people could browse, buy carvings or make arrangements to have carvings made.
"These days, for instance, I'm becoming more interested in doing carvings that people can use. I've been doing a lot of hand carved signs: welcome signs, business signs, things like that."
You get the feeling "if David Paul carves it, they will come." He is a phenomenon just waiting to be discovered. In our era of "kits," kitsch and wooden clocks that are stamped out 15 or 20 at a time by metal machines, a man who puts his heart, mind, money and time into crafting items as the craftsmen did in 1492 is more that an interesting story. He's something of a treasure.